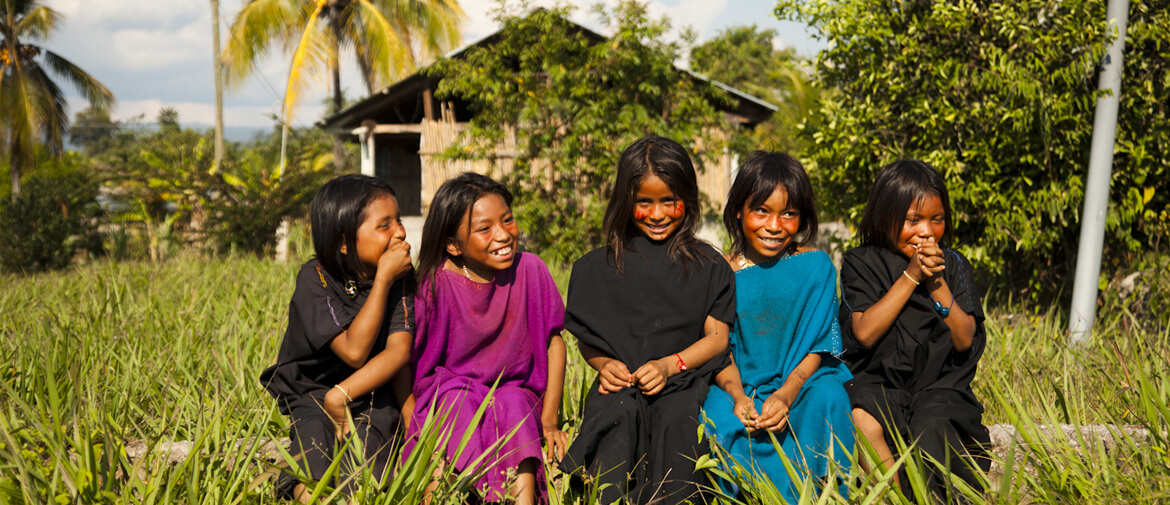 Saving the rainforest: 10 years of partnership
This week we're celebrating a phenomenal achievement: 10 years of supporting rainforest charity Cool Earth.
Knowing that putting local communities first is the answer to effective rainforest conservation, we've put more than £500,000 in the hands of those on the frontline of deforestation. As such, today, our support has directly protected almost 10,000 acres of at-risk rainforest.

But that's not the best bit. Our partnership with Cool Earth has also transformed the lives of some incredible rainforest communities. From funding a nutrition and hygiene programme in Peru, to providing our own sewing machines to help women in Papua New Guinea, we've strived to go above and beyond when it comes to rainforest protection.
Here are 10 ways we've made a difference:

1. We donated sewing machines to Cool Earth's partners in Papua New Guinea, and now they're stitching a brighter future for their community and their rainforest. Sewing and making clothes and textiles is a skill many women in Cool Earth's partner villages already have. With investments in business training and savings groups, they can go that step further; turning their smart ideas into income generating micro businesses that outprice forest destruction.

2. Carbon storing, oxygen releasing, air cleaning, income supporting, animal homing.
Trees are the lungs of the world, and not to be taken for granted. We're proud to have protected nearly five million trees in rainforests from Peru to Papua New Guinea.

3. Our Click for the Earth campaign has seen many customers and employees clicking their way to saving over 821 acres of rainforest – that's 492,555 trees standing safe and sound. It's a prime example of many small actions all adding up to a hugely positive impact.

4. Trees store carbon from the atmosphere in their roots, leaves and branches. Carbon that's released by slash and burn and deforestation. That's why, when looking to reduce our carbon footprint, rainforest is the best place to start. The rainforest that we've protected is keeping over two million tonnes of carbon locked up, which is the equivalent of driving around the Earth 200 times.
5. We think it's important to eliminate avoidable waste and focus on positive action. As such, we run a return and recycle scheme [insert link to recycling page] for customers. In exchange for customers returning their used ink and toner cartridges to us for recycling or remanufacturing, we help Cool Earth protect trees.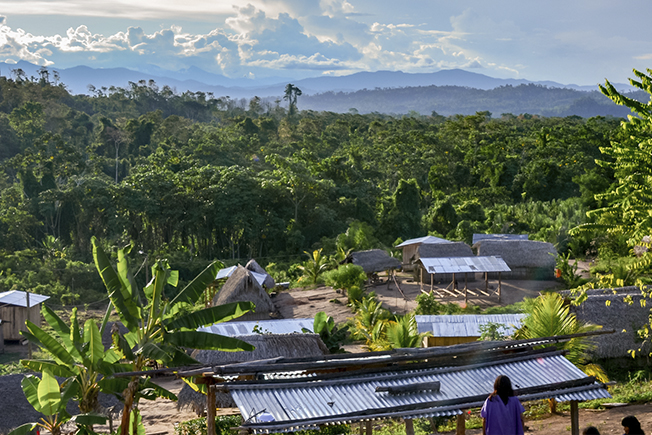 6.

As part of our staff's commitment to environmental innovation, knowledge sharing and learning, our European offices take part in an Eco-Points initiative. Twice-yearly quizzes raise both awareness and crucial funds for Cool Earth, as for every question answered correctly, a donation is made.

7.

Papua New Guinea is a country of incredible diversity. Home to over 800 languages and thousands of species, it is also threatened by the rising tide of palm oil. We've been at Cool Earth's side in the country since 2015 as a key funder of their Wabumari and Gadaisu partnerships. With 33 scholarships awarded to community members and 40 members of the Dabu bakery cooperative, sustainable incomes are ensuring communities are economically resilient enough to resist advancing palm oil plantations.

8.

Improving healthcare in the Peruvian rainforest is so much more than just providing funds for emergency evacuations. It's about empowerment. Our support has helped community members in the Asháninka register for national ID, access support schemes and assist with emergency evacuations to hospital when needed.

9.

Building sustainable livelihoods for those living in rainforest communities is vital in fighting against loggers and protecting trees. In Peru, our backing has resulted in 180 families benefiting from cacao farming, 82 families growing coffee and 42 families growing rice.

10.

The world's rainforests are the most biodiverse places on Earth, sheltering millions of species. By keeping them protected, we're helping to ensure the longevity of endangered species in the Peruvian Amazon such as the Spectacled Bear, Grauer's Gorilla in Democratic Republic of Congo and the Southern Crowned Pigeon in Papua New Guinea.

To find out more about Cool Earth, visit coolearth.org.