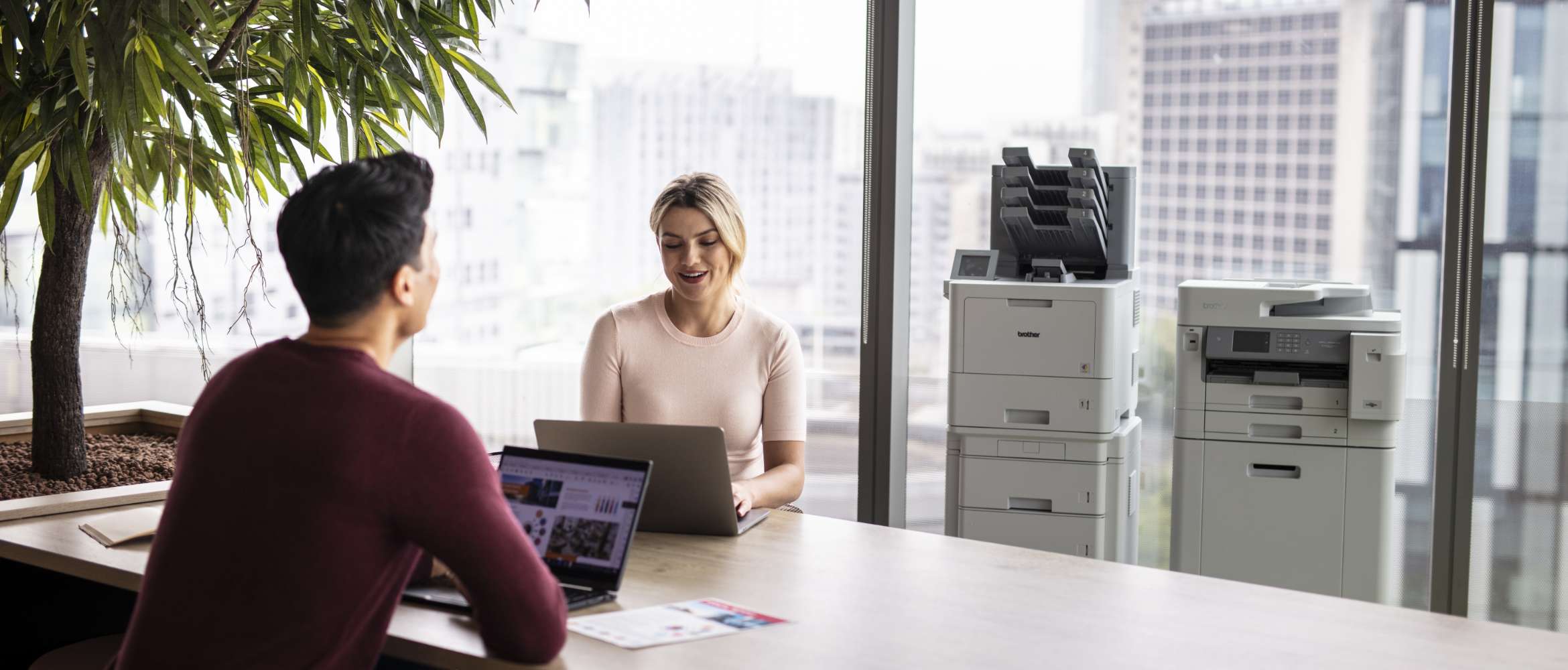 How to incorporate Circular Economy principles in your business printing
There are finite resources available on our planet. There's also a growing awareness that we need to move away from the buy-use-throw away behaviour that sees those resources wasted, and perfectly useable components ending up in landfill.
This has sparked a growing move towards a Circular Economy: an economic model designed to transform our throwaway world into one where resources are re-circulated, waste is reduced and our environmental impact is limited. 1
When it comes to specific types of material we throw away, waste electrical and electronic (WEEE) is the fastest growing waste stream in the EU, and more than 60% of this goes to landfill2. It is easy to see why we need to contribute to the Circular Economy.
What is the Circular Economy?
Put simply, the Circular Economy is a model of production and consumption that involves reusing, repairing, refurbishing and recycling existing materials and products for as long as possible.
In doing this, the life cycle of products is extended, replacement costs can be reduced and resources are recovered at the end of a product's life for use in future manufacturing3.
If, like many, your business is undertaking an environmental impact assessment, choosing a technology partner that supports your sustainability goals is a simple step that will help your business become more 'circular' in its thinking.


How can I support the Circular Economy in my business printing?
1. Prolong the life of your printer
If you're considering your environmental impact, a printer that can be easily repaired and upgraded will use fewer resources than changing the entire printer.

When choosing an office technology supplier, look for one that designs products to be durable. Combined with regular maintenance, this will ensure that your printer serves you for longer. And moving to a modular repair model will prevent perfectively serviceable printers from being thrown out when parts can easily be repaired or replaced.

A modular repair capability allows you to remove, update and upgrade many individual components without having to replace the whole device. Software updates can also be done remotely to ensure the printer is running the latest system and functionality. This means that, over time, you can invest in better specifications and ensure that your devices are as future-proofed as they can be.


2. Recycle your cartridges and toner
Refurbishing and remanufacturing are at the heart of the Circular Economy - and many suppliers now offer a free printer cartridge recycling programme.

Some schools, charities and recycling points collect empty printer cartridges to recycle or remanufacture them.

It's all part of ensuring that as little waste as possible goes to landfill. More than this, some of the recycled parts start a new life in new products, completing the circle.



3. Recycle your printer
As well as toners and cartridges, printers themselves can, and should, be recycled. Maximising the lifespan of the printer is important, so if it can be reused, that should be the priority. The next option is breaking it down for recycling. Individual components can then be reused or recycled, and even the casing can find a new life.

Realising the importance of this, the EU has guidelines on the amount of waste electrical and electronic equipment generated1. These guidelines are designed to contribute to sustainable production and consumption, increase resource efficiency and contribute to the circular economy.


What Brother is doing for the Circular Economy
We want to support businesses looking to play their role in the Circular Economy, whether it is through printers, supplies, or a print subscription service.

All cartridges returned to us are remanufactured at our European factories - with 95% of parts reused to make new toner cartridges. Any that cannot be remanufactured are broken down and turned into 100% recycled toner cartridges. The fax machine ribbon cassettes produced at our recycling factory in Wales are also made from 100% recycled plastic.


Find out what we're doing to reduce the environmental impact of office equipment and contribute to the Circular Economy.


1 https://ellenmacarthurfoundation.org/topics/circular-economy-introduction/overview

2 https://www.europarl.europa.eu/news/en/headlines/society/20201208STO93325/e-waste-in-the-eu-facts-and-figures-infographic

3 https://wrap.org.uk/resources/guide/electricals/repair-electricals#

4 https://ec.europa.eu/environment/topics/waste-and-recycling/waste-electrical-and-electronic-equipment-weee_en