Four new Brother business solutions to help boost office productivity
During busy periods at work, we all find ourselves wishing for shortcuts to help us to increase productivity and reduce stress.
To help free up time for businesses and their staff, Brother has introduced four powerful new solutions to help improve print performance and reduce management time:

1. Request Help
The shortcut to managing device issues
When an error appears on a printing device, many of us are struck with a fear of pressing the wrong button.
Providing an interactive tool for businesses in need of assistance with their printers, the Request Help service brings expert advice to your fingertips, giving you more control and peace of mind. By simply pressing the icon, a full diagnostic report is created and automatically emailed to your IT administrator or print service provider.
This intuitive solution is secure, doesn't require any additional hardware, and gives you more control and transparency over your print fleet.


2. Order Supplies
The stress-free way to top up supplies
To keep printing devices working at optimum levels, they need to be fuelled with the right cartridges. With ever growing to-do lists, procurement is easily forgotten. Brother's new Order Supplies service enables you to order replacement cartridges directly through the machine at the touch of a button.
This is an ideal service for businesses not looking for a full managed print solution, as it eliminates the time and effort of shopping round for supplies.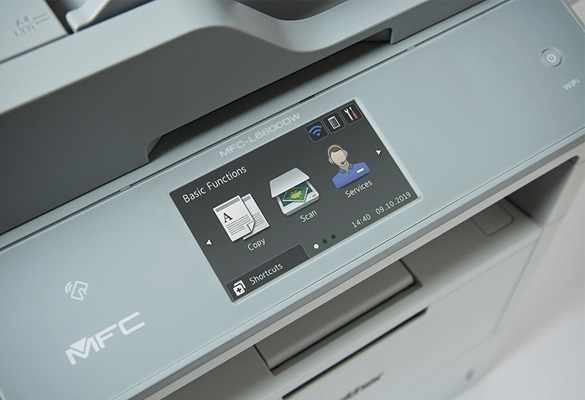 3. Remote Panel
Assistance at your fingertips
To make life simpler when dealing with printer issues, it is now possible for your IT administrator or print service provider to troubleshoot device issues remotely.
The Remote Panel service operates in real-time and enables your IT provider to securely access the printer, quickly diagnose and resolve any issues.
By changing settings there and then, this reduces machine downtime and can minimise the need for onsite maintenance visits.



4. Barcode Print+
Enables industry standard barcode font printing
The Barcode Print+ option eliminates the need to buy an expensive separate device for your barcode printing needs. Now you can print clear, industry standard barcodes using select Brother office printers.
Barcode Print+ easily integrates with your existing software systems and is fully compatible with SAP and many more enterprise solutions. This enables the printing of your own personalised barcodes that are tailored to your specific business requirements.
Reflecting Brother's "At your side" motto, each of these business services and solutions have been designed to address the needs of our customers and service partners in order to make their printing processes more productive.
Find out more about these and other Brother business solutions here.