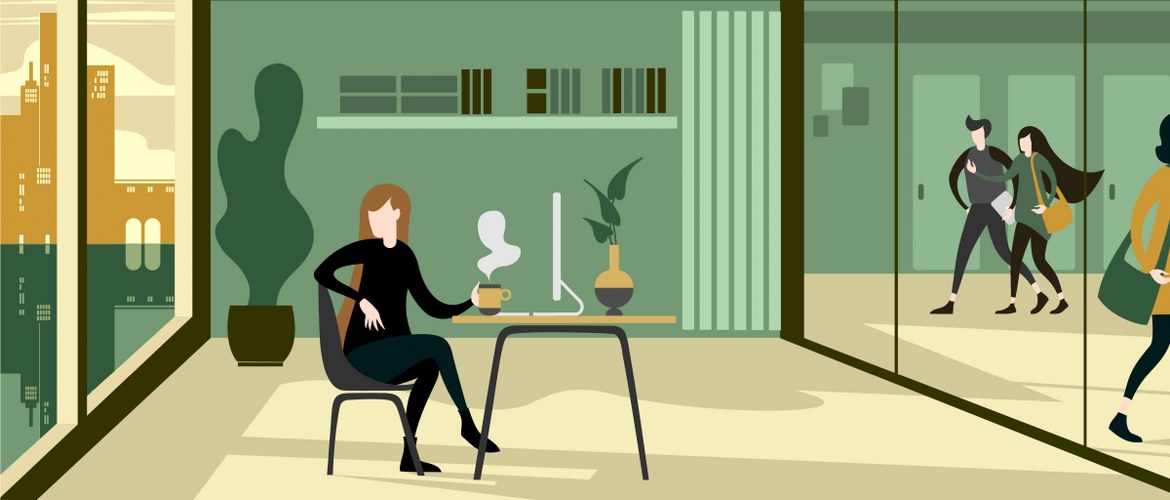 Office of the future: the physical feel of the future workplace 
While technological progress means it is entirely conceivable that organisations may operate without a single desk or office, a far more likely reality is that we will see an increase in workplaces with fewer everyday attendees and flexible use of desk space.
Emerging trends – future office configuration
Right now across Europe, start-up incubator projects, pioneering office space providers and freelance-focussed collaboratives are fine-tuning a flexible offer that will continue to evolve and shape our future work. Areas of key interest and further development include:
• Modern configuration
This is changing the entire feel of the workplace thanks to a combination of design optimisation and workplace cultural innovation, which is providing employees with a variance of spaces to think, focus, create and collaborate. Breakout spaces, standing desks, individual soundproofed booths for private calls, collaboration areas, quiet corners, cafes and relaxation areas such as roof terraces are set to become more prevalent. The shift towards ever more individual work booths will be particularly prevalent as voice recognition and speech dictation tools grow in use.
• Entertainment perks
Incentives are on the rise and extending their march into the workplace, with many visionary providers equipping office buildings with gym facilities, pool tables, bar games and board game collections. Even if such benefits are seldom used outside of break times, they improve worker engagement and help turn workplaces into social, communal hubs, which in turn boosts morale.
• Plants, colour, natural light and sleep pods
These wellbeing upgrades will increasingly join the office mix in a move that will increase levels of creativity and productivity. Looking ahead, higher-tech stimuli such as lifelike 3D holograms, circadian lighting (which follows natural waking rhythms to boost energy and positivity), sensory deprivation tanks for neuro stimulation to revolutionise wellbeing and bio mimicry could see us using virtual reality to go to the beach for respite during breaks.
Impending shifts – tracking the generational trajectory
To date, many of the enhancements made to the workplace, have been implemented in line with the generational handover from Baby Boomers to Millennials and Generation Z.
However, more change is on the horizon. Where efforts have been made to make workplaces feel more modern, more digital, more connected and more funky – the needs of these younger generations are also now poised to evolve.
Combine the rising numbers of millennials becoming parents with the rise of freelancing, gender equality and initiatives such as shared parental leave, and the picture becomes very different.
This impending mix of circumstances combined with the declining provision of public services means we can expect to start seeing things like childcare, laundries and hairdressers become prevalent features of future workplaces.
Benefits of the undefined workplace
Collaborative co-working spaces housing clusters of companies from numerous sectors will create a platform for business introductions, knowledge sharing, collaboration and, ultimately, growth.
And this needn't exclusively benefit Small and Medium Businesses (SMBs). Large enterprises could reduce operating costs, invigorate operations and embrace the start-up mentality by leasing smaller hub offices with fewer desks and allowing small, breakaway teams to work from collaboration spaces.
Whether your business is big or small, the benefits of well configured, collaborative working spaces will be transformational – particularly when combined with leading-edge technology.