Overview
ADS-3600W
The Brother ADS-3600W colour document scanner offers business-ready, professional grade office scanning, for fast, efficient and time saving digitisation. One touch scanning from the 9.3cm colour touchscreen provides a simple scanning solution for all office employees, while the large screen makes it easy to identify features and operate, minimising the need for staff training.   
The programmable touchscreen can be pre-set to scan directly to designated locations including FTP or Network folder locations to instantly share documents across teams and departments. One touch scanning helps prevent the risk of inaccurate filing and lost scans by ensuring all staff can easily scan to the desired location.
The ADS-3600W has both wired and wireless connectivity for work station flexibility. Wireless connectivity means the ADS-3600W can be located in various areas across the office, situated wherever is convenient. Our secure wireless Network capability offers peace of mind for IT departments and business adaptability for users. 
This high end document scanner incorporates scan to email, email server, file, image, USB and web as well as scan to Network, OCR (Optical Character Recognition) software and SharePoint® for multi-function operation, and is ideal for larger business requirements. Incorporating SuperSpeed USB 3.0 for high performance super-fast processing and optimised power efficiency, the Brother ADS-3600W is designed for improved usage and faster data transfers. The unit also offers USB 2.0 backwards compatibility.  
With auto 2-sided colour scan, a 50 sheet ADF (Automatic Document Feeder) and rapid scanning at up to 50 pages per minute, the ADS-3600W is a professional departmental scanner for small to medium business needs.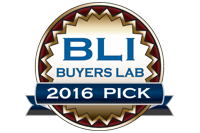 Buyers Lab 2016 Summer Pick Award

The Brother ADS-3600W won BLI's Summer 2016 Outstanding A4 Network Scanner award due to its NFC functionality for mobile app access, touchscreen control panel with up to 48 customizable profiles, rapid speeds, support for a wide range of paper weights and the device's scan to USB memory stick/drive functionality among numerous other connectivity, compatibility and workflow benefits.
"The 50-ppm Brother ADS-3600W's robust media handling capabilities, better than average speeds and superb software bundle would be enough to praise its performance. However, its network scan functionality adds a degree of versatility not typically seen on such an affordably positioned device," concluded Lisa Reider, BLI senior product editor for scanners.