Overview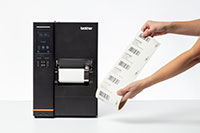 Rewind and collect
Automatically wind labels onto a roll during the printing process so you don't have to collect the labels when printed.
The Brother TJ-4420TN enables you to print as many labels as needed, for use whenever required and without creating a mess.
Integrate with ease
With the Brother TJ label printers, there is no need to worry about integration.
Our industrial printers support various printer command languages, including ZPL2 emulation, making printer replacements as easy as possible - with minimal disruption.
Rapid print speeds to maximise productivity
The TJ-4422TN label machine offers rapid print speeds of up to 14ips, delivering high-volume label printing to help you keep up with increasing demand.
The fast print speeds make our reliable industrial printers perfect for manufacturing and transport & logistics environments.
First-class user experience
Offering a touch panel display for instant feedback, the TJ-4422TN has been designed with the user in mind. Make life easy for your workers by troubleshooting issues in just a couple of taps.
Connectivity as standard
USB, USB Host, Serial and Ethernet are included as standard for the TJ industrial label printers.
An optional WiFi and Bluetooth module is also available as an accessory to meet your connectivity needs.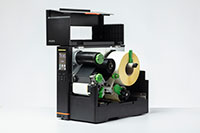 In-built durability
Brother industrial printers have been built with you in mind, and built to last, ensuring you enjoy years of hassle-free label printing.
The high volume industrial printers feature a metal chassis and other durable design features to ensure they perform at their best, even in the toughest production environments.