Overview
The stylish label printer for use all around the home
With a compact modern design, the P-touch CUBE fits your home perfectly, whether you use it in the kitchen, study, home office, garage, garden shed, for personalising gifts, or labelling your children's school clothes and school equipment.
Designed for Android and Apple devices 
The free "P-touch Design&Print" app is available from your device's app store. It offers many ideas for labelling around the home, and its clean look and feel make it easy to create the labels you need.

Plus all the family can install the app to their devices and use whenever they require a label.

Why not try the app now? Just search "Design&Print" in your device's app store!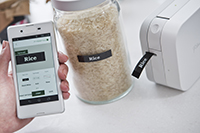 Easy set-up using Bluetooth
No more complicated set-up using your home network or Wi-Fi connection. Simply search for your P-touch CUBE printer in the app, and tap to connect - it takes just a few seconds to set-up.
Wide range of uses 
Label storage containers and jars, shelves, plugs, mobile phone or tablet chargers, file folders, shoe boxes, children's clothing, school equipment and toy boxes. Use in the garden, garage and shed to label plant sticks, storage bins and tools. Also great for gifts, entertaining and parties.
Print in many colours and sizes
A wide range of adhesive label colours and sizes, patterned tapes and fabric ribbons for gift wrapping, and iron-on fabric labels for marking names in school uniforms and workwear are available, ensuring that the P-touch CUBE will be an invaluable part of your home organisation.
P-touch laminated labels - tested to extreme
Brother TZe laminated labels are incredibly durable, and are designed and tested to withstand extremes in temperature, sunlight, moisture, abrasion and chemicals. This means they can be exposed to sunlight in the garden, used to label food containers in your freezer, safely used on food containers in the dishwasher, used in a steamy bathroom environment, and can take the knocks when used to identify your holiday luggage and suitcases!